You may be wondering why you even need a meal delivery service now that most grocery stores offer curbside pick-up or delivery.
The answer is simple, with a meal delivery service like Dinnerly or Home Chef, you get top quality ingredients along with instructions on what delicious meals to make with them.
Hard to beat that with wandering through food options on your own with no real idea of what to get or what to make with them. It is easy to get stuck in a rut and make the same meals over and over again. Delivery boxes make meals exciting again.
Almost everyone has been stuck at home for the last few months eating the same take out or easy to make meals.
We are going to walk you through a few of the best affordable meal delivery services that can offer you some change of culinary pace. Have fun in the kitchen again with new and tasty ingredients.
Each of the services reviewed below is excellent for being able to get great food at a reasonable price, but they have their own draws. You can use our reviews to let you know which one might fit your needs and lifestyle best.
The pricing options are varied based on how many meals you intend to subscribe to per week and how many servings per meal.
Most of these meal delivery services allow the lowest order amount of two servings for two or three meals per week. This means, if you are ordering just one person, you will have two meals per day for two or three days a week, which is a great money saver.
There are also some like Martha & Marley Spoon that is fantastic for larger families as they offer discounts the more servings and meals added to the subscription.
**Disclaimer: We are a participant in the Amazon Services LLC Associates Program. Some of our links are affiliate links
The Most Affordable Food Delivery Services
If you want variety in options, then Home Chef is the way to go. They have fantastic meal boxes for everything from fifteen-minute meals or entree selections to slow cooker meals.
Their meal boxes can also be found at most Kroger locations if you need to be able to prepare a great meal at home with little notice. This accessibility sets them apart from most of the other meal delivery services.
How you build the meal is also unique and very flexible. You get to choose exactly what you want on your plate, although they also have pre-planned meals if you're going to explore new tastes. Once you decide what you want, they will ship fresh ingredients straight to your door, and the pricing starts at just $6.99 per serving.
Price: The smallest meal size option is two meals a week for two people with a first week total of $59.70 ($10 off first order). Shipping is free for the first order.
Slightly more expensive, but still highly affordable, with a single meal serving at $7.49, this meal delivery company is excellent for people who love fresh variety.
Customers have rated HelloFresh as the best meal delivery service in terms of ease of starting and stopping the service and the quality of ingredients provided. That way, you only need to pay for what you want when you want it rather than being chained to a monthly or yearly subscription.
Expand your culinary horizons with their huge mix of meal options from burgers and fajitas to smoky barramundi.
Each box comes with the perfect amount of ingredients so there will be no food waste, an easy to follow recipe, and packaging for your meal. HelloFresh is a quick way to bring some color and flavor variety to your kitchen.
Price: The minimum pricing option includes three meals a week for two people with a + $7.99 shipping cost and $8.99 per serving. This can lead to a minimum of $61.93, and that is a pretty solid price for the product.
This is kind of a different type of service. They will cook the food for you. You only have to reheat it in the microwave before serve.
This feature is especially good if you don't have the time to prepare a complete meal or if you despite cooking with all your heart. I love cooking but there are days when a fully made healthy dinner would be appreciated.
It doenst have that many options, but considering that all the hard work it's done, it's a nice deal.
Price: For 4 servings a week, you pay $46 ($11.5 per meal), including shipping. For 12 servings a week, it cost $95.88 ($7.99 per meal), so it is cost-effective for larger families.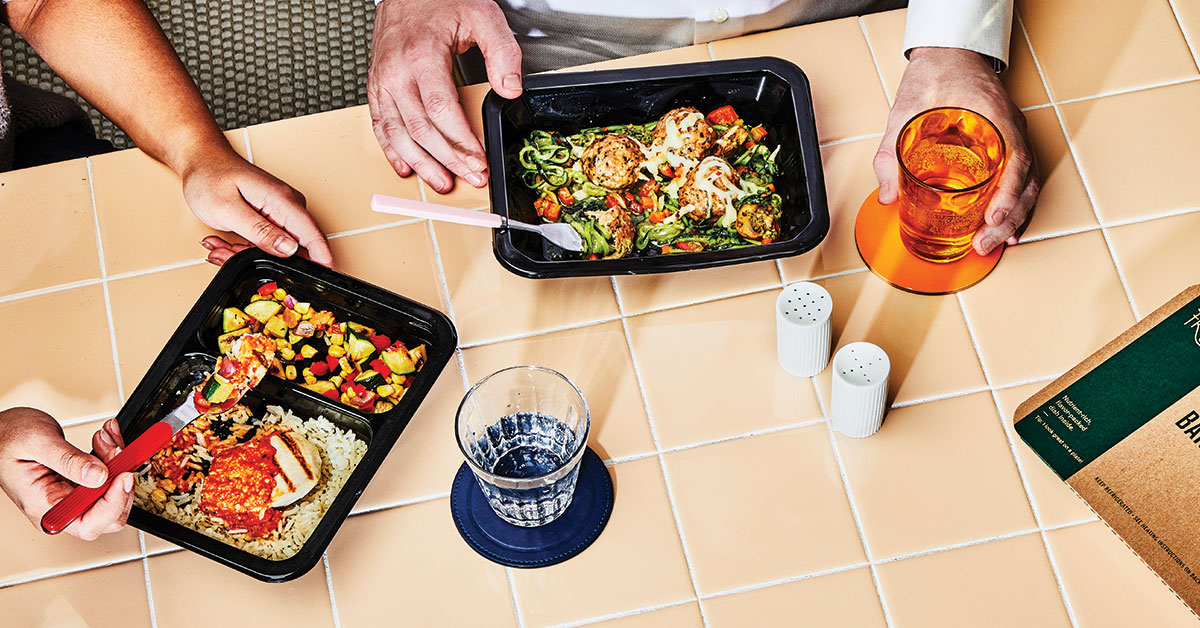 Martha & Marley Spoon
This is the Martha Stewart meal kit. If you already enjoy buying and cooking with Martha Stewart products, then this might be the perfect affordable meal service for you. There are twenty-two new recipes made available every week, so if you get quickly bored with food, then you will love their diversity.
This particular company offers a lot more in terms of customer services, FAQs, and resources than any other on the list, which can be great if you are new to home cooking or want to know that you will be able to reach out if you need help with your service.
Price: The great thing about their prices is the more servings you add to your meal kit, the cheaper each portion becomes. If you have a large family, then this would probably be the most cost-effect option. Their minimum option is two meals for two people with a + $8.99 shipping added. This comes to a minimum total per week of $49.99.
We love that they offer a ten-day free trial to anyone who isn't so certain if meal delivery is for them or not. Platejoy works with Instacart to ensure that you get the freshest ingredients possible.
This is probably the best pick for anyone who has a restricted diet due to medical issues or lifestyle as there are fifty different data points they use to determine ingredients and meal plans, giving optimal control over customization. If you are on a ketogenic, low carb, or paleo diet, they have a meal for you.
Every meal is created by a nutritionist making sure that you are getting the portions your body needs. Platjoy also has a very comprehensive customer support system, so it is easy to change your plan, get answers for questions, and they even have a great blog that will make sure you get the most out of your meal delivery service.
Price: The subscriptions come in 6-month $69 and 12-month $99 plans. This does not include the price of food. They also have a weight-loss version that at 3-month cost $89 and 6-month for $119. The amount of food is not included because you use Instacart to get your food, and then Platejoy creates the meal instructions for you.
If you are looking to just dip your toe into the waters of meal delivery services, then Dinnerly is really the best place to start with single meals coming at prices as low as $4.49.
It's hard to beat getting a meal for less than the price of a Starbucks venti Caffe mocha. For that low price, you can start to experience what it feels like to get your pick of the best meal options for your needs.
Dinnerly has a meal for you whether you are super health-conscious, have a lot of allergies, or enjoy trying a little bit of everything.
This is also an excellent option if you don't have time to chop, mash, or brown anything before you start dinner. Sometimes you just want a few simple ingredients and an easy recipe. Dinnerly provides that. There are currently sixteen meals to choose from, so that is an entire month with new meals every week.
Price: Each box option comes with a + $8.99 shipping fee to be added on top of the $4.49 per person (with the minimum of 3 people) coming to a minimum total per week of $38.93. That is less than most families spend on take out in a two week period.

A meager starting price of $4.99 per serving makes this a very affordable option as a place to start with meal delivery. You get to decide between eleven recipes every week, and then those meal ingredients and directions are sent to you. The recipes change every seven days, so you never get bored with what is one the menu.
Every Plate's menu covers all the favorite homestyle foods along with some international taste options to add some spice to dinner. Most of their meals are able to be cooked within thirty or forty minutes, and they do not have the option for shorter cooking times, so if you have limited time to prepare your meals, then this might not be right for you.
Price: The smallest amount you can order is three meals a week for two people for $4.99 per serving with + $8.99 shipping. This can lead to low prices like $56.91 for three amazing meals for two people or six meals for one person. That's a pretty great deal.
Get 18 meals for only $3.33 each with free shipping on your first order
Fresh Meal Plans is dedicated to creating the smallest carbon footprint possible. They use only the best ingredients that are 100% organic, with no artificial preservatives or ingredients. Plus, all of their packagings are created using recycled materials.
You can get 25% off by choosing to refer a friend. Free food is always a great bonus to any meal service. And the best part, your friend receives also the same discount on their first purchase. WIn win deal!
This is not as cheap as the rest of the option above, but if you are a healthy conscious person this may be ideal for you.
Also, they have a variety of menus that suit multiple diets and lifestyles: Traditional, paleo, vegan, keto and lean & mean.
Price: They offer tier price plans. Meaning that you get better prices per meal the more meals per week you buy. They have three available plans. The cheapest plan includes 6 meals per week (for one person) at 12$ per meal. 72$ per week total.

Our Favorite Affordable Meal Delivery Service
As you can see, there are cheap meal delivery kits for pretty much everyone.
If you need healthy food that is quick to make, then you've got HelloFresh with their twenty-minute meals. If you have a specific diet that is more restrictive, then Platejoy has you covered.
It really is excellent to see this kind of assortment available today. We remember back when there were only one or two, and they were pretty much exactly the same. Now there's a perfect match for everyone.
These are all some really great and affordable meal delivery services, so you cannot really go wrong no matter which one you choose to go with, but we have a few favorites.
Dinnerly is probably the best all-around option with its extra-low price, a huge variety of meals, and plan flexibility.
If you want to go a bit upmarket and want to contribute to your community, then Fresh Meal Plans is our second favorite option. Their eco-conscious choices are really great, and their food options are fantastic. 
Whatever you end up choosing to do, you won't be stuck with the same three delivery places anymore. You will be able to have complete control over what types of meals are headed your way while not having to deal with the minutia like shopping, finding the recipe, and trying to figure out if it has the right nutritious value.
These companies do all of that for you. Bring some diversity to your kitchen and remember what it's like to truly enjoy the act of cooking for yourself and your family.
Owner and Food blogger on The Cookware Geek. She loves cooking, baking, traveling, playing with the cats, and knitting. She believes that eating delicious meals doesn't require a culinary degree or a Michelin-star chef in your kitchen.